Private Fishing Charters on Gold Coast Make Your Charter Boat Experience Memorable
When you want to experience the joys of fishing, there's nothing like getting out on the open water and doing it from the deck of a boat. If you're one of the many people without access to your own watercraft, however, you may find yourself wondering how that's possible. Charter fishing can be an excellent option, but you don't necessarily want to share the boat with a bunch of strangers who you're not familiar with, or might scare away your catch. What can you do when you want to experience the thrill of deep sea fishing while also enjoying your privacy?
You might think about looking at private fishing charters in Gold Coast. From Surfers Paradise to the Broadwater, a private fishing charter can make Gold Coast a fisher's dream—providing comfort, top-notch equipment, and the space you need to make your most impressive catch ever. You just need to make sure that you have all the necessary features onboard, and that the people who are taking you on your trip are well aware of what they're doing at all times. When you're looking for Gold Coast private fishing charters that match that description, you'll want to go to one of the area's most trusted charters: Hooker 1 Fishing Charters, a locally owned and operated organisation that provides some of the most in-depth adventures anywhere in the vicinity.
When you choose Hooker 1 Fishing Charters for your Gold Coast private fishing charter, you'll find unparalleled comfort mixed in with state of the art equipment and experienced help. Our crew loves fishing, so we've gone out of our way to make sure you have access to everything you need when you're on our boat, whether you're a seasoned angler or casting your line out for the very first time.
A Boat Built for Fishing
Hooker 1 is a 41-foot-long flybridge cruiser, whose unique build allows her to remain stable in the water and provides an exceptionally soft ride. This design makes it an ideal vessel for fishing and more. Add to that the fact that we carry a full stock of quality Shimano fishing gear on board, and use special technology to locate fish so that you'll always be fishing in busy waters, and you can see why choosing Hooker 1 Fishing Charter for your next trip is a smart investment in your next catch.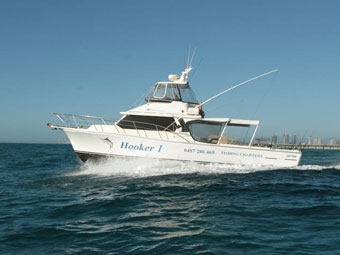 A Completely Private Fishing Charter in Gold Coast
While we offer group rates to people who are interested, we also allow you to hire out the boat for a full day of private fishing. It's also possible—and easy—to charter the boat for a few hours. Our three-quarter-day package gives you from 6AM to 1PM, and includes lunch. The name of the game is flexibility when you board Hooker 1, and we want to make sure you're always in your best shape to fish. That's why we work with your schedule and make you as comfortable as possible along the way. Call us today to book your next trip, and speak with our Captain to learn more about how we can take you on an adventure you'll remember for ages.