Get On Board
The ultimate Gold Coast adventure!
Half Day and Full Day Charters Available.
Awesome Fishing
The Gold Coast reefs are full of fish waiting to be caught, check out our great value for money pricing.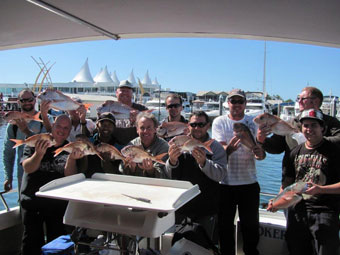 Tackle & Bait Supplied
We only use the best fishing gear and bait to ensure you get your catch. All included in the pricing.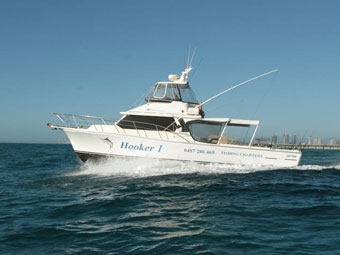 Fast, stable & comfortable Fishing
We spend less time getting there and more time fishing on Hooker 1 Gold Coast Fishing Charters.
Charter Pricing
Book Now For The Ultimate Gold Coast Fishing Experience
Make your Gold Coast holiday one to remember.
We have made booking your fishing trip easy, simply click on the desired Fishing Trip button, choose pay by Paypal or Credit Card and thats it!
We will be notified and get in touch with you.
What Our Customers Are Saying
Don't just take it from us, let our customers do the talking!
The New Owner of Hooker 1 Charters Ashley and his crew made our day memorable, they were on hand to help with whatever we needed, all the bait was supplied and ready to go we caught fish, Pearl Perch was the catch of the day. We saw whales on the way out and back. Plenty of cold drinks, fresh fruit and refreshments. Great to have the cabin area to relax and chill out if needed a place to sit after a workout fishing. Very flexible with times and days, for small and large groups, clean amenities, can't fault this one for the price. Thanks Ashley and crew for a wonderful day, will be out again soon. Ashmore Qld
Allison L.
"An amazing fishing trip!"
I was in Surfers Paradise for 2015 Christmas and wanted to do some fishing. I phoned many places and didn't get anywhere, but I phoned Hooker 1 and was booked in for the next day. I love fishing and I was actually alone (my parents didn't come as they are not die-hard fisherman like I am) on this trip that I did and the crew and guides couldn't have been kinder and more helpful. The trip was amazing as is the boat. The boat was large, with many comfortable seating areas, and had great fishing guides. They were all very nice and helpful. We trolled for about an hour or so to get to the reef where we targeted snapper, and on the way I brought in a 50kg (110 lb) black marlin. I am 13 and needed some help, and Benny -one of the guides- was very helpful in helping me reel in the fish. After trolling, we reef fished for snapper a few other fish I don't remember the names of. Cold drinks and great snacks were available and a toilet too. I would highly recommend this fishing charter to anybody, child, teen, or adult. -Tanner
Tanner M
"Outstanding Fishing Experience "
An absolutely excellent day out. Black Marlin!!!, Wahoo!, Snapper, great hospitality from real, down to earth, honest people who genuinely want you to have a great experience. Ash and Co are salt of the earth and are having a real crack at doing things the right way. We got a big Wahoo and a good Black Marlin on the trawl and Ash put us on some great marks for bottom bashing. Wish I could rate this higher than a five. I'll be back!
Trip Advisor Comments
Frequently Asked Questions
What do I need to bring?
Just bring your camera, sun tan lotion, sunglasses, and a hat, and we will provide the rest.
Can I bring alcohol?
If you are bringing alcohol, we request that you drink responsibly please. (It's a long swim home!)
Will I get sea sick?
Hooker 1 is a very stable fishing platform but as a precaution we recommend taking some sort of motion sickness pills to ensure you have a good day on the ocean.
What is your refund policy?
If for what ever reason you need to cancel your booking we require at least 48 hours notice.
What if I don't catch any fish?