Do You Want an Unforgettable Fishing Trip? Try a Full Day Fishing Charter in Gold Coast
If you love fishing, you probably want to make sure that you can get the most out of each fishing trip. Of course, there's never a bad time to be out on the water if you're a diehard lover of the sport, but it still never hurts to make sure that you have everything you need for a good time when you cast off from the dock. Choosing a charter for this is often very helpful since they can provide you with all the necessary equipment and amenities to enhance the experience (not the least of which is the vessel itself). If you're serious about making sure your fishing trip is a good one, though, you'll want to ensure you pick a charter company that puts your needs and experience first.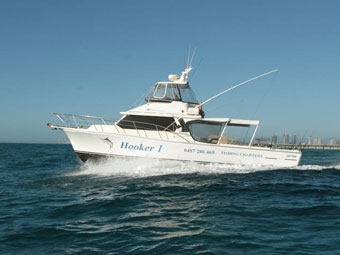 Look at Gold Coast, for example. Going on a fishing trip in Gold Coast is one of the best experiences a fisherman (or woman) can have in Australia. The weather is frequently gorgeous. The fish are always biting. The whole region is practically a paradise for people who love to fish. A lot of charters operate in Gold Coast too, but only a few will be able to give you everything you need to make your Gold Coast fishing trip truly memorable. Gold Coast fishing trips should be more than just events, after all—they should be adventures.
That's the philosophy at Hooker 1 Fishing Charters. We pride ourselves on offering the some of the most dynamic and flexible fishing trips in the area so that you'll be able to enjoy your time with us no matter your schedule or skill level. For dedicated fishing enthusiasts, we even offer a full day fishing charter in Gold Coast so that you'll be able to fish the area for all that it's worth.
Fish to Your Heart's Content with a Full Day Fishing Charter in Gold Coast
There's nothing more frustrating to the avid fisherman than chartering a boat for a couple of hours, only to find out that the fish don't start biting until 15 minutes before you have to go back. That's why Hooker 1 Fishing Charters offers a full day charter service. We want you to have every opportunity to make your best catch when you're out there, so we give you the time you need to make it happen. We also offer a three-quarter-day all-inclusive charter available from 6AM to 1PM, placing you in the best waters during the most likely part of the day for you to catch the fish of your dreams.
Keep Everything You Catch
Every trip with Hooker 1 Fishing Charters is designed to satisfy our guests, which is why you get to keep everything you catch on our trips. Whether you're an experienced angler looking for your next trophy, or a first-time fisherman looking for a souvenir to remember the trip by, choosing Hooker 1 Fishing Charters is an excellent way to make it happen.