Are You Looking for Quality Boat Charters? Try This Charter in Gold Coast
There are lots of great reasons to charter a boat in Gold Coast. Maybe you're an avid fisherman who is looking for the catch of your life. Perhaps you've come to Gold Coast because you're intent on doing some whale watching, or maybe you'd like to try scuba diving. Maybe you need to hire out a boat for a corporate party or a special event. Whatever the reason, Gold Coast is a fantastic place to find charters. Gold Coast is one of the most beautiful areas for boating anywhere in Australia; it provides sailors, fishers, divers, whale watchers, partygoers and many more people besides with incredible opportunities to get out on the water and experience the joys of the open sea.
One of the best charters in Gold Coast is Hooker 1 Fishing Charters. In addition to the packages we offer for reef, game and deep sea fishing, we also offer several other exciting experiences to our guests. These include cruising, diving, and whale watching packages, so that no matter what your reasons are for wanting to charter a boat, we can give you the opportunity to make it happen. With state of the art equipment, a highly experienced crew, and the flexibility to accommodate the needs of you and your party, you'll have everything you need for an adventure on the high seas when you pick Hooker 1 Fishing Charters as your Gold Coast charter.
Charter a Gold Coast Boat for Whale Watching and Scuba Diving
When you choose Hooker 1 Fishing Charters, you'll have plenty of opportunities to get up close and personal with some of the amazing wildlife in the area. We're ideally located for divers, who will be able to reach some of the most exciting reefs around on our scuba excursions. Our boat is also equipped with a turbocharged Cat diesel engine, providing up to 20 knots per hour of speed so that you'll be able to get to your dive spots quickly and spend more time underwater.
With a comfortable saloon area on board, we're also an excellent craft from which to watch marine life on the surface, including the astounding whales that populate the waters around Gold Coast, from Surfers Paradise to Broadwater. Humpbacks frequently migrate throughout the region, and watching them can be a truly life-changing experience as they slap their tails and play in the waves.
A Charter Boat with an Experienced Captain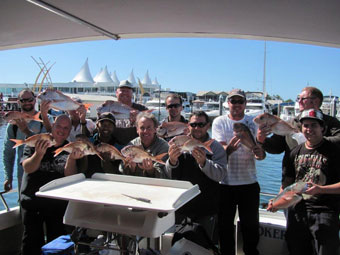 Ashley Retallack grew up around Gold Coast and has over 15 years of experience chartering boats in the surrounding area, giving him an exceptionally detailed knowledge of conditions, waterways, and habitats for seasonal wildlife. Because of this, he's an excellent guide to the area and an indispensable asset to explorers and sportspersons alike. If you're ready to explore Gold Coast like you never have before, we invite you to get your sea legs with Hooker 1 Fishing Charters. We'll show you a good time on the water that you won't soon forget.