Hooker 1 Fishing Charters Gold Coast

Get Up Close And Personal
With These Majestic Giants
Awesome Fishing
All Year Round
The Ultimate Gold Coast Fishing Charter Experience
Our Captain & Crew has over 20 years experience fishing on the Gold Coast!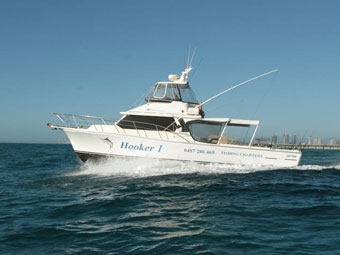 Private Charters
Private Gold Coast Fishing Charters are ideal for Corporate Events, Bucks Days, Parties, Hens days, or Broadwater Cruising.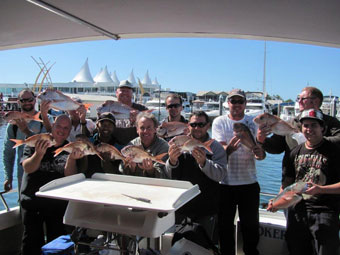 Shared Charters
Shared Gold Coast fishing charters give the opportunity for individuals to come together to lower the cost of their charter boat trip.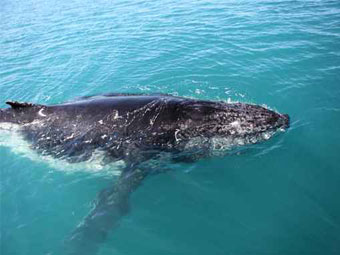 Whale Watching
Experience the amazing thrill of getting up close and personal with migrating Humpback Whales on the Gold Coast.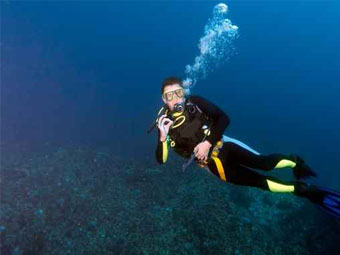 Scuba Diving
Hooker 1 is ideally located to get your dive group to where ever you wish to explore. Less time getting there more time diving.
Reef Fishing
Game Fishing
Deep Sea Fishing
Scuba Diving
Whale Watching
Gold Coast Cruising
Gold Coast Fishing Charters
Welcome Aboard Hooker 1
Whether you're a beginner or a seasoned angler, Hooker 1 Gold Coast Fishing Charters has the experience and expertise to provide you with a great, fun filled Gold Coast fishing and boating experience. Situated on the beautiful Gold Coast Hooker 1 fishing charters can make your fishing dreams come true. We are a locally owned and operated Gold Coast Fishing Charters that is dedicated to giving fishing enthusiasts the ultimate fishing adventure. We offer half day or full day reef and game fishing charters with all bait and tackle, morning tea, lunch, Icy cold drinks and coffee provided. You keep what you catch and your fish are cleaned and bagged for your convenience. Our experienced crew will assist you in every way possible to ensure your day is successful and enjoyable.
Why Choose Us
Whether it's deep sea fishing, reef fishing or game fishing, Hooker 1 Gold Coast Fishing Charters has the local knowledge and experience to make your fishing experience a success! The Gold Coast offshore waters is home to a wide variety of fish species year round. From reef fishing for Snapper or Pearl Perch to trolling for Marlin or Tuna we are here to fulfill your fishing desire. With over 20 years experience, Capt. Ash and his crew have the knowledge and expertise to ensure you have the best Gold Coast fishing  trip possible. Make your Gold Coast holiday memorable and book the fishing trip of a lifetime.
Looking for Fishing Charters on the Gold Coast , look no further!
Book Now For The Ultimate Gold Coast Fishing Experience
Make your Gold Coast holiday one to remember.
What Our Customers Are Saying
Don't just take it from us, let our customers do the talking!
The New Owner of Hooker 1 Charters Ashley and his crew made our day memorable, they were on hand to help with whatever we needed, all the bait was supplied and ready to go we caught fish, Pearl Perch was the catch of the day. We saw whales on the way out and back. Plenty of cold drinks, fresh fruit and refreshments. Great to have the cabin area to relax and chill out if needed a place to sit after a workout fishing. Very flexible with times and days, for small and large groups, clean amenities, can't fault this one for the price. Thanks Ashley and crew for a wonderful day, will be out again soon. Ashmore Qld
Allison L.
"An amazing fishing trip!"
I was in Surfers Paradise for 2015 Christmas and wanted to do some fishing. I phoned many places and didn't get anywhere, but I phoned Hooker 1 and was booked in for the next day. I love fishing and I was actually alone (my parents didn't come as they are not die-hard fisherman like I am) on this trip that I did and the crew and guides couldn't have been kinder and more helpful. The trip was amazing as is the boat. The boat was large, with many comfortable seating areas, and had great fishing guides. They were all very nice and helpful. We trolled for about an hour or so to get to the reef where we targeted snapper, and on the way I brought in a 50kg (110 lb) black marlin. I am 13 and needed some help, and Benny -one of the guides- was very helpful in helping me reel in the fish. After trolling, we reef fished for snapper a few other fish I don't remember the names of. Cold drinks and great snacks were available and a toilet too. I would highly recommend this fishing charter to anybody, child, teen, or adult. -Tanner
Tanner M
"Outstanding Fishing Experience "
An absolutely excellent day out. Black Marlin!!!, Wahoo!, Snapper, great hospitality from real, down to earth, honest people who genuinely want you to have a great experience. Ash and Co are salt of the earth and are having a real crack at doing things the right way. We got a big Wahoo and a good Black Marlin on the trawl and Ash put us on some great marks for bottom bashing. Wish I could rate this higher than a five. I'll be back!
Trip Advisor Comments
Frequently Asked Questions
What do I need to bring?
Just bring your camera, sun tan lotion, sunglasses, and a hat, and we will provide the rest.
Can I bring alcohol?
If you are bringing alcohol, we request that you drink responsibly please. (It's a long swim home!)
Will I get sea sick?
Hooker 1 is a very stable fishing platform but as a precaution we recommend taking some sort of motion sickness pills to ensure you have a good day on the ocean.
What is your refund policy?
If for what ever reason you need to cancel your booking we require at least 48 hours notice.
What if I don't catch any fish?